17 Travel Experiences I Loved in 2017
2017 • Miles traveled: 29,000+ • Flights: 19 • Days on the road: 81 • Countries visited: 2 • States visited: 8 • Cities visited: 25+
In 2017, I saw the Northern Lights in Iceland, dancing across the dark night sky in fluorescent shades of green. I experienced a different kind of light show standing in the middle of Times Square in New York, on a long-time-coming trip to a city I once I thought I'd live in, but still hadn't visited years later. The light in California burned my shoulders to a crisp, as we cruised along the dramatic central coastline in a convertible with the sun beaming down and the wind whipping my hair into a laughable mess (it never blew effortlessly behind me like in the movies).
I spent about 22 percent of the year on the road, between visits to family and friends in Florida and Alabama, quick hops to Disney World, short vacations within the U.S. and one two-week expedition that took hubby and me from the waterfalls, glaciers and volcanic beaches of Iceland to the concrete jungle of NYC. Along the 29,000-plus miles we traveled (that's more than the equatorial circumference of the world), we collected a wealth of memories, and I've shared a few of my favorites below in the hopes that they will inspire your upcoming journies and remind us how blessed we are to live a travel-filled life.
Walking around Chicago in the snow
I tagged along on a work trip with hubby to Chicago in mid-March, when there was still lots of snow on the ground. Even though it was freezing out, I had so much fun hoofing it around the city on my own while he was busy, checking out the green river (it was St. Patrick's Day weekend), the Bean, the Magnificent Mile and Lincoln Park. We went to Navy Pier together one evening to watch the sunset over the city and randomly decided to see a comedy at the Chicago Shakespeare Theater. It turns out that watching Shakespeare is no easier to follow than reading Shakespeare, but trying to figure out what was happening sure made for some good times.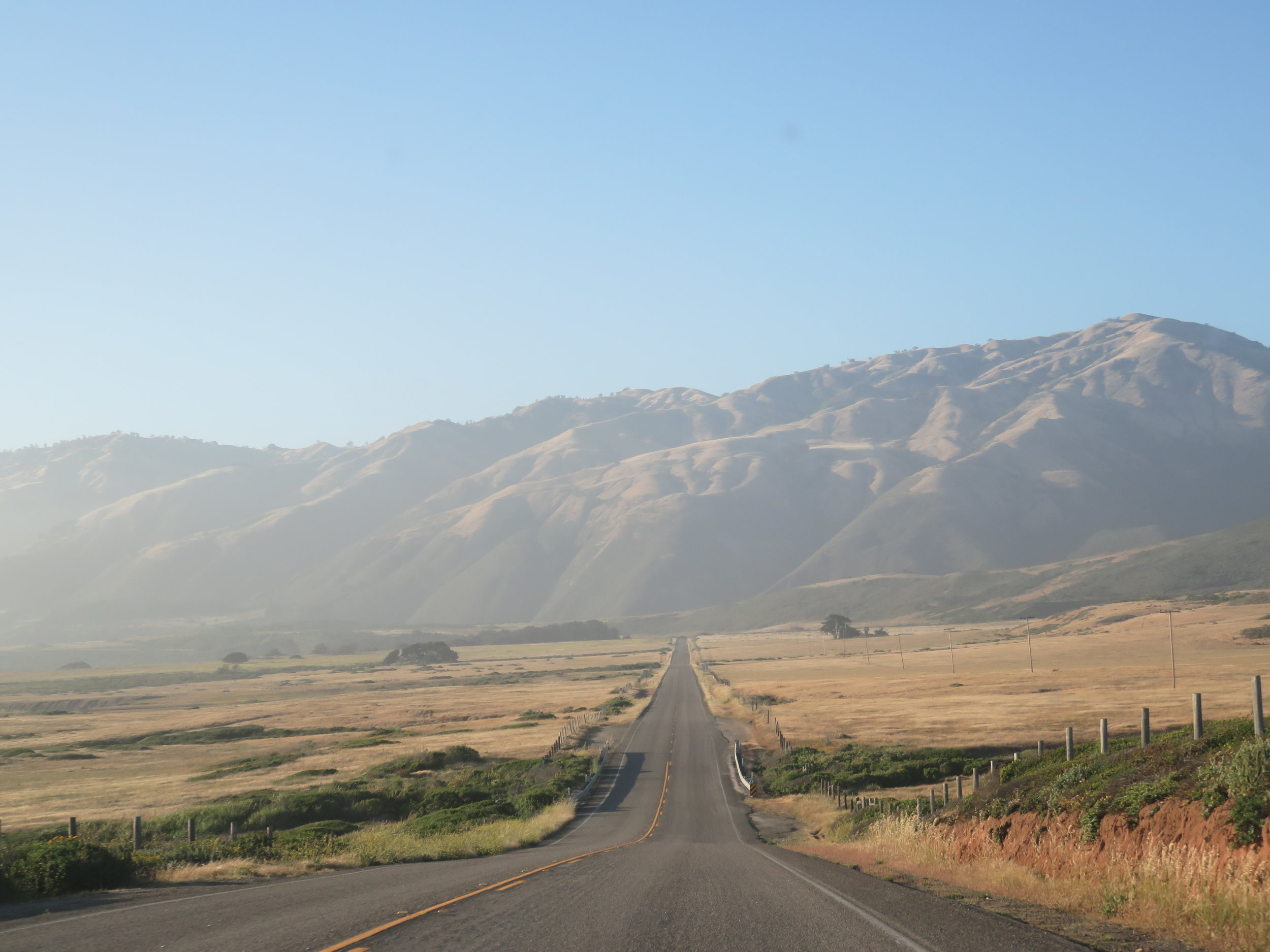 Driving the Pacific Coast Highway
Hubby splurged on a convertible for our June road trip up the PCH from Los Angeles to San Francisco, and I have to give him props for that since I got to live out some major wind in my hair dreams. We ran into a bit of a bummer, though, as the road was closed around Big Sur due to mudslides damage from the previous winter, but we actually enjoyed the wine-country scenery detouring around it on U.S. Route 101, and we were still able to enjoy most of the incredible views from either end of the closure.
Taking a studio tour in Los Angeles
Though I always feel a bit silly indulging in uber-touristy attractions (we lasted about 10 minutes on the Hollywood Walk of Fame), hubby and I were both keen for a look behind the scenes of the film and TV industry while we were in LA. Ideally, we wanted to watch a taping, but since most sitcoms had wrapped for the season, and we planned our trip at the last minute, we weren't able to get any tickets. Instead, we opted for a studio tour at Warner Brothers, where a couple of my favorite shows have filmed. It was actually really fun getting to sit on the Stars Hollow gazebo steps (from "Gilmore Girls") and drive around the fake cities and small-town streets that you see on TV all the time.
Seeing seals and whales in the wild
I was on the hunt for seals big time on our spring California trip, so when I finally saw a whole bunch of them laying around on the beach in San Simeon, I probably squealed a little. I could have stood there watching them wrestle in the water and scoot around lazily for hours. A couple of days later, we got to see whales from afar in the San Francisco Bay, which only made me want to see them up close even more, so that's moving up the goals list for 2018!
Watching the sunset at Baker Beach
We saw a few amazing sunsets on our California trip, but one of my favorites was at Baker Beach in San Francisco. Watching the sky change colors over the Pacific with whales popping up out of the water here and there around the Golden Gate Bridge – perfection. Not to mention, we accidentally stumbled upon a nude beach and there was a gentleman really soaking up the sunset, so … interesting memories all around.
Going to Mickey's Halloween Party
We spent six days in Disney Parks this year, including a visit to the brand new Pandora – The World of Avatar at Animal Kingdom during opening weekend in spring, and to the Epcot International Food and Wine Festival in fall. My favorite experience, though, had to be Mickey's Halloween Party at the Magic Kingdom in September. We attended Mickey's Very Merry Christmas Party last December and had the greatest time riding everything with no lines and seeing all the festive decor, so when we had the chance to go to the Halloween version, we couldn't pass it up. Though I definitely enjoy the holiday atmosphere of the Christmas party more, it was fun getting lots of candy, seeing everyone dressed up, and watching the villainous parade.
Playing in the snow in the Rocky Mountains
One of our best travel surprises this year happened in Colorado, when, as we drove toward Estes Park and Rocky Mountain National Park in early October, it suddenly started snowing. It was early fall, so we weren't expecting to run into snow. Since it kept us from accessing parts of the park we were heading to, we just pulled over on the side of the road and started playing in it and built a little snowman. It was the ideal snowfall too, as there was no wind and it barely felt cold outside, despite not having brought all our winter gear.
Tracking elk in Colorado
This also happened on our snow day right outside of Rocky Mountain National Park. We pulled over when we noticed some people had stopped, and spotted an elk off in the distance who quickly ran off. When everyone else left, we walked around to see if we could find him again. After a bit of hiking, we were about to head back to the car when we decided to look over a ridge and realized that two elk were just feet away from us. Not wanting to disturb them, we quietly backed away and watched them play from a safe distance for the good part of an hour. And then on our way out of the area, we had to stop our car because three elk were crossing the road back and forth. We cracked up at how we had spent so long respectfully spying on the pair from far off and then these ones were just right there in the middle of a bunch of people not shy at all. Thirty minutes later on the drive home, we ended up seeing a whole herd on the side of the road.
Attending a concert at Red Rocks
We've been wanting to do this for some time, and after our first experience, we'll definitely be back. If you've never heard of Red Rocks, it's this incredible open-air amphitheater in the Denver, Colorado, area. Two 300-foot-tall sandstone monoliths provide stellar acoustics at the venue, and at 6,450-feet high, the park offers fantastic views of the city, especially at night when you can see the downtown lights under a sky full of stars.
Being surrounded by Bison in Colorado
This story is a near mirror of our elk experience a couple of days prior, taking place at the Rocky Mountain Arsenal National Wildlife Refuge in the Denver area. We spotted a handful of bison several yards away (from the safety of our car) and stopped for a good while to snap a hundred pictures. Minutes later, we were just a couple of feet from one who was hanging out right by the road, so we stopped to stare at him and take another hundred photos. We were pretty pleased with our sightings and heading out of the park when suddenly, several dozen bison surrounded us, blocking our escape. My awe turned to slight panic pretty quickly when they started tussling with each other just an arm's length away from our rental car. Luckily all humans, vehicles and bison escaped unscathed!
Touching a rainbow at Skogafoss
One of our first stops during our October trip to Iceland was at the waterfall Skogafoss. We took a red-eye flight to Reykjavik, so we were a night of sleep short and all the otherworldly sights we drove by that day seemed extra fantastical. It was also a really sunny day, which we weren't expecting, so when we got to the famous Skogafoss and a saw a double rainbow fronting the falls, it felt like some kind of a dream. I'm glad we took lots of pictures because I don't think I'd believe it was real otherwise.
Seeing glaciers and icebergs
One of my favorite days in Iceland (OK they were all amazing) took place at the Jokulsarlon lagoon, where we took a zodiac boat ride around icebergs to see a glacier up close. We also saw a seal floating on ice and played on a black sand beach where large chunks of ice wash up on their way out to the ocean. I can now say I've sat on, crawled inside and tasted an iceberg … none of which I even knew were goals. The experience ended with a freezing cold walk through two feet of rushing water when we misjudged the tide and found ourselves trapped on a little iceberg island. Pretty much the worst moment of the trip, but in retrospect, it makes for a funny story.
Hiking up Glymur
My husband planned most of our Iceland trip, which meant there were a few surprises in store for me. One of these was a hike up the second-tallest waterfall in Iceland (eclipsed only by a recently-discovered glacial waterfall that is inaccessible). As adventurous as I attempt to be, I have a lot of fears, and I like to mentally prepare before tackling something that involves water crossings and scooting along narrow ledges hundreds of feet in the air. So imagine my panic when we come to a rushing river and I see scattered rocks and a precarious-looking log bridge I'm supposed to cross. I definitely wasn't the most easy-going person to hike with that day, but we made it almost to the top (it started to rain) and I definitely felt like a champ after it was all over.
Spending the day in Gjain
One of our favorite spots in Iceland (and probably anywhere in the world), is this scenic valley in the Southern Region called Gjain. We had to bounce around over rocky and pot-holey "roads" to get there, so it seemed almost unreal when we glanced down from the barren landscape we had just driven through to find a lush and waterfall-filled land that fairies must call home. Even though we were on a tight schedule, we spent the better part of an afternoon there, hopping across streams, discovering a dozen cascades and climbing up boulders to find the best views. We seriously never wanted to leave, as it felt like our own private little land since no one else was there. If you ever go, bring a picnic and a blanket and carve out a day to just enjoy the atmosphere.
Eating bagels in NYC
My hubby is not the biggest fan of New York or big cities in general, but he took me this fall for my birthday. I think the only part he enjoyed was our daily bagel runs. Each morning we'd head to a different shop for some bagel and schmear with a side of latte and pick a scenic spot to eat – the High Line, Central Park and Main Street Park in Dumbo. I even turned him on to savory spreads on his bagel, and since we live in Texas, we made sure to sample all the jalapeno options.
Seeing Wicked on Broadway
After 12 years of being a fan and three times of watching the tour, I finally got to see "Wicked" on Broadway. And there's not much more to that story. Just a check on the bucket list!
Ice skating in Manhattan
It's long been a dream of mine to visit New York around the holidays to see the giant Rockefeller tree and all the Christmas window displays at department stores. We visited in mid-October this year, so things weren't exactly Christmassy yet. But despite the unseasonably warm weather, we were there just in time for the opening of the Rockefeller Center ice-skating rink and I got to pretend like it was December.
What were some of your favorite memories from 2017?